Mr Grey - Balance Line
What does soap and Star Trek have in common?
If you get to know me well sooner or later you will realize that I'm a Star Trek fan, more so of Star Trek the Next Generation than all the others which has much to do with my childhood. So what does star trek has to do with soap? Well for this soap its quite obvious.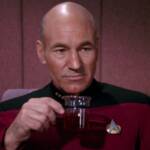 If you are a fan of the show then you should know the favorite drink of Captain Jean Luc Picard. If not then the name of this soap should have given you a clue. Its simply Earl Grey Tea.

Now there may be many reasons why the writers saw fit that the captain enjoys a hot cup of earl grey tea but notably that he has some roots in the British culture.

No matter the reason the reason this was chosen from many other possible infused soaps was not just that I like the tv show but that the ingredients of the Earl Grey tea have some pretty awesome benefits.

[embedyt] https://www.youtube.com/watch?v=R2IJdfxWtPM[/embedyt]

We were on the search for ingredients to make bars of soap that would combat the different types of skin types we find not only world over but here in the Bahamas. We wanted soaps that could tolerate our salt air, clean our skins and overall help balance a persons skin based on their natural state.

We found that Earl grey tea is made from the Bergamot Orange Peel and such a simple fruit has such amazing properties. Here are just some of the benefits.
Fights anxiety and depression: Earl Grey Tea contains bergamot which has natural aromatherapy qualities. Bergamot is known to have calming effects on those who drink it. Also the compound bergamot boosts a person's mood and thus helps to overcome stress, anxiety and depression.
Boosts Energy Levels: Earl grey tea contains caffeine in good quantities. Caffeine in the tea is a great energy booster and provides almost instant energy to the body.
Helps in weight loss: Earl grey tea is a great beverage for weight loss. Since this tea contains citrus extracts, it is considered as one of the most popular means of weight loss. The citrus extracts help in improving the rate of metabolism in the body which aids in burning more fats quickly eventually resulting in weight loss.
Fights cancer: Earl grey tea is rich in antioxidants. These antioxidants fight the free radicals that can damage the cells resulting in cancer. Consumption of this tea provides the body with the required amount of antioxidants that help to fight the cancer and other life threatening diseases.
Of course some of the benefits only help if you ingest the contents as a drink but some were good enough for us to consider in a bar of soap.  We set out to make a bar of soap surrounding the properties of the bergamot orange but suitable for persons with Dry Skin... A few weeks late Mr Grey was born.
This Balance line soap works wonders for persons with dry skin. Its has not Essential oil in it to avoid drying out the skin. Its highly moisturizing and as we found out haphazardly it works wonders on persons with eczema.
Making Bahamas Soaps or rather soaps inspired by the Bahamas and its people has become a joy for our company. We look forward to making more as the years roll on by.
Do you have an idea for a Bahamian inspired soap? please let us know your ideas we would love to hear from you.