50/50 Basic Soap Recipe
A 50/50 soap recipe is one of the first soap recipes we teach to our beginner soap makers in our soap workshops. It is a quick and easy recipe to follow and the bar is a hard and bubbly bar with good cleansing properties.
This basic soap contains no fragrance nor essential oil however adding it is recommended as the olive oil can have a desired scent that you may want to mask.
Because its such a basic recipe it can be modified to also add color or other additives such as oatmeal or even charcoal or tumeric.
A few options will be listed below.
This recipe uses Olive and Coconut Oil ONLY
Ingredients
16 oz - Olive Oil
16 oz - Coconut Oil
10 oz - Distilled water (preferable)
4.6 oz - lye (NaOH)
1.4 oz - fragrance or essential oil (optional)
2 tsp - color (optional)
Purchase Ingredients
Tools Needed
2 qt Glass Mixing Bowl
16 oz glass measuring cups (TWO)
Silicone Spatula
Stick Blender
Infrared Thermometer
Steel Whisk (optional)
1 tsp measuring spoon
42 oz Loaf Mold
Food grade scale (ounces)
Instructions
1 - Lye water
Add lye to water slowly mix until dissolved Add sodium Lactate to the lye water mix. Let cool to 80-100deg. (Can put in freezer to speed cooling)
2 - Oils
Add oils in together in 2 qt large bowl and warm to a point where oils are clear. Keep below 120 deg, 100-110 is good.
3 – Add Essential or Fragrance Oils (optional)
Measure out oils in a glass container. (do not use plastic container for essential oils) When measuring use wax paper on top of your scale to avoid the oil spilling on the plastic of the scale. Essential oil eats at plastic and will destroy your scale
4- Mixture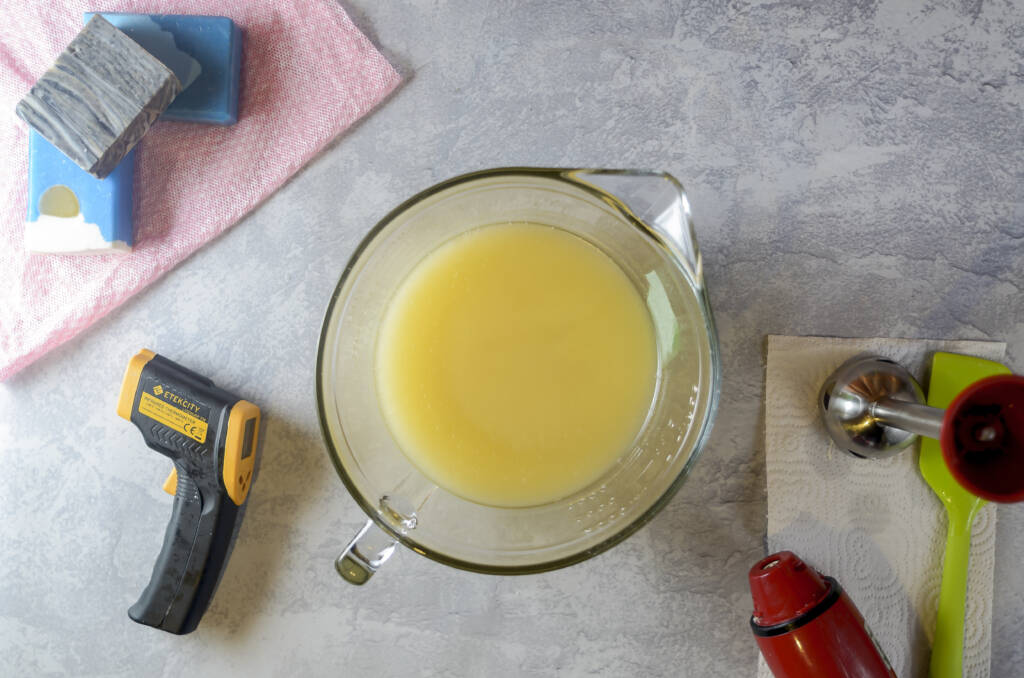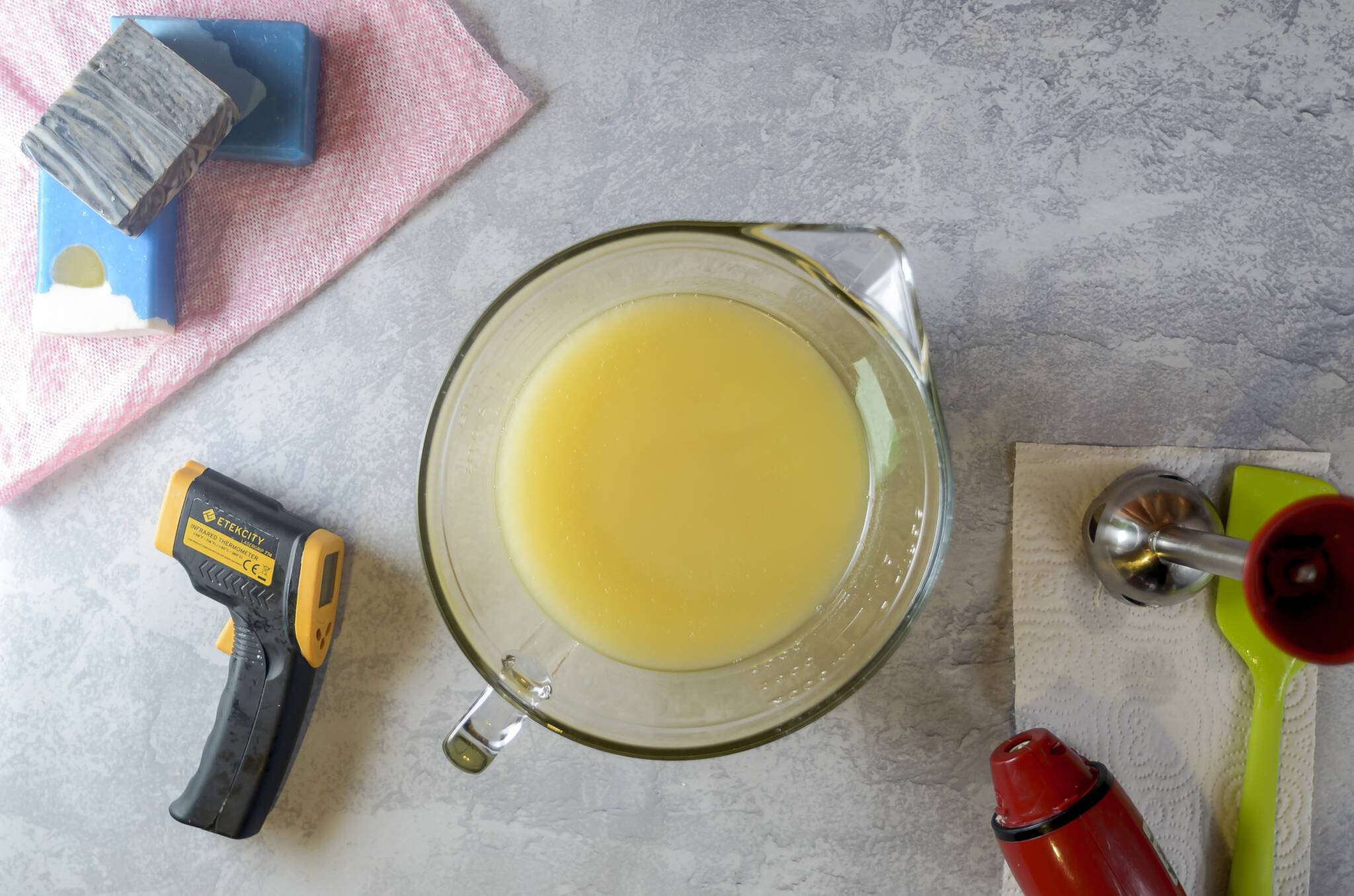 Add your color to oils and mix with stick blender until well blended
Add your Fragrance or Essential Oil to base oils and blend together
Add lye water to Oil mix along stick blender to prevent bubbles Add around 100 deg for oil and lye water
Depending on your essential or fragrance oil, trace may accelerate be sure to work quickly and blend to light trace.
Pour mixture into loaf mold, design the top as needed
Depending on ambient temperature Cover with cardboard or wax paper over top then put to bed with towels to go through trace. If in a room at 75deg or more leave open and exposed. If in a cooler room cover the soap to let its own heat help take it to gel phase for brighter colors.
Let you soap sit for 24 hours before removing from the mold. Check by pressing lightly on the top of the soap. It should be hard to the touch.
Remove the soap from the silicone mold and cut in to bars.
Let your soap bars sit in a cool dry place for 4-6 weeks to cure.
Curing removes the excess water from the soap, this causes the soap to last longer.